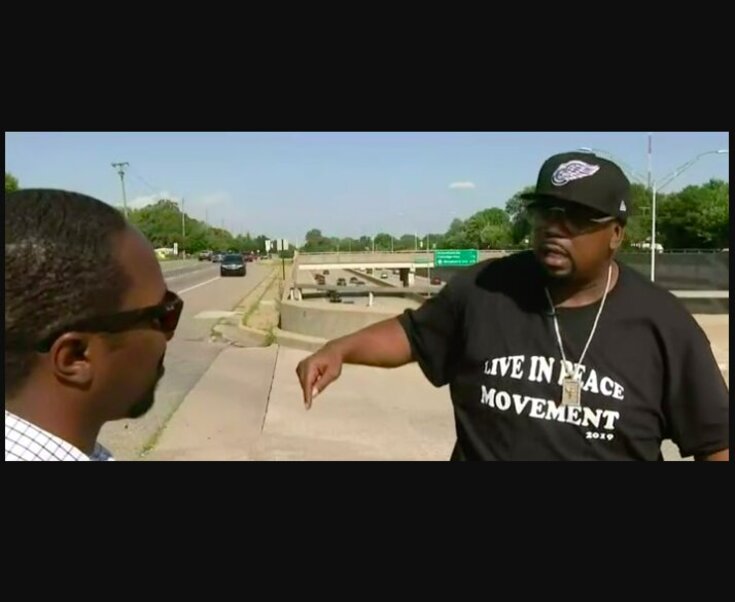 A pastor missed his exit on the highway over the weekend, where he found a man on the crossed path standing over the edge of a Metro Detroit freeway overpass.
It was a right timing for the pastor to help save another person's life rather missing his way.
Maruice Hardwick and his wife Kya, immediately pull over to the stop the man from juming.
"I missed my exit, and God sent me up one more exit to turn around," Hardwick told Local 4 News.
If he had not missed his exit in the first place, he would not have crossed paths with the suicidal man, which could have ended in the man jumping.
After they pulled over, they tried to talk to the man, but he was not responding to the couple.
"He wouldn't respond to us," said Maurice Hardwick. "He said not one word. He didn't even raise his head when we called him. So I knew then he was locked in."
Before the police responded, they decided to do something in other to distract him as another drive also pull over and try to engage him in a conversation, when Hardwick pulled the man off the bridge.
Hardwick shared that the man said: "I don't want to live, I don't want to be here anymore, let me go."
Kya, Hardwick's wife, shared with Local 4 News that she was nervous about the safety of both the man and her husband, as they were in a dangerous spot.
Army Vet Tried to Commit Suicide — Then God Miraculously 'Saved My Life'
"Both of them could have gone over," Kya said, "so I just started praying. I did all that I knew to do."
"I just was not willing to watch this take place on my watch," Hardwick shared, expressing why he jumped in to help.
In a post to facebook, Hardwick expressed his gratitude to his wife for praying while he helped rescue the man.
"To all the people that actually took the time to make a comment and to those that actually know us we appreciate the ones that not only thank God or prayed but encourage me & Kya in this very traumatic situation," he wrote. "I'm not sure how it came across on camera but it was very very serious and I have not been that nervous in a long time and y'all know I've been thru a lot."
"I'm so thankful for a praying wife," he wrote, "I told people last Sunday that she has more power in prayer then me and I felt it because the entire time we swung back around she was praying and she only silenced it to allow me to creep up on him."
According to faithwirer.com, Hardwick is the pastor of Power Ministries church in Detroit, Michigan, where he works to eliminate the violent crime problem in Michigan.
"God told me, he says 'pastor, I never told this generation they had to die to be in peace.' Tell them to rip the 'R' and leave the 'L' and to live in peace," he said in an interview with WWJ News Radio.
"If I do not like this…where is my protest? So we protest and we lament over the blood that runs through the street of Detroit of my young people — we definitely hold accountability over ourselves, and over our neighborhood by telling them to stop the violence."